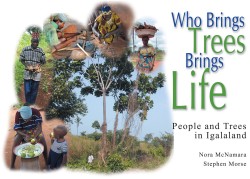 Euro: €18.99
Use our "Buy Now" button to make a purchase. You can also email us for our bank details for an easy bank-to-bank transfer. If you prefer to send a cheque, add the cost of shipping to the book price and post it to us.
Who Brings Trees Brings Life highlights the profundity of the lives of Igalas, including their worship, their relationships, health, food and livelihoods. It also illustrates once more the wholeness of traditional society, demonstrating it not as something static, but a rather dynamic institution that slowly but organically accommodated new tree species and ideas.
The purpose of the book is to show the Igala people's engagement with trees, and were selected by Igalas, showing their vast knowledge and understanding of each species. It also aims to demonstrate to anyone who lives with trees their value as part of the natural fabric of life and how important it is to protect and cherish them.
Who Brings Trees Brings Life - People and Trees in Igalaland
Nora McNamara and Stephen Morse

*Shipping:
Ireland - FREE
Europe + €4.00
All Other + €4.00
The trees of Igala have much to communicate, need a voice, and to find expression on behalf of trees elsewhere. Becoming more and more aware of the declining soils, tree cutting and climatic changes, it is hoped that the information about these trees is now recorded and celebrated for their multiplicity of uses. As agroforestry comes more into the limelight this book highlights their versatility and uses so they can become friends of crops and those who toil with them.