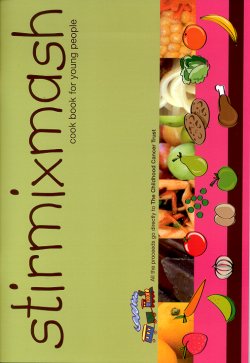 Euro: 10.00
ISBN 1897685 74 2
Use our "Buy Now" button to make a purchase. You can also email us for our bank details for an easy bank-to-bank transfer. If you prefer to send a cheque, add the cost of shipping to the book price and post it to us.
*Shipping:
Ireland - FREE
Europe + €4.00
All Other + €4.00
Stirmixmash
Cook book for young people

Colourful and simple to follow, stirmixmash will provide lots of fun making food which tastes great, from wholesome hot snacks and main courses to thirst quenching lemonade and crunchy cookies.
All the proceeds go directly to The Childhood Cancer Trust.