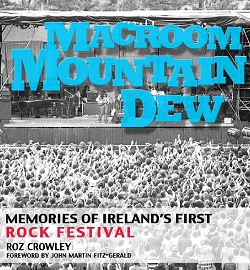 In 1977, Irelandís most talented guitarist, Rory Gallagher, attracted 20,000 fans to a quiet market town in north county Cork for Irelandís first major open-air event: the Macroom Mountain Dew Festival. An unforgettable moment in Irish rock history, the festival was a trailblazer.
The brainchild of a visionary group of Macroom locals, the Macroom Mountain Dew Festival was staged annually for seven years from 1976 to 1982 and featured some of the biggest music stars in the world. In Macroom Castle grounds and other local venues, rock fans gathered to hear Marianne Faithfull, Van Morrison, Elvis Costello, Rocky De Valera, The Chieftains, Paul Brady, Horslips, Paul Young, The Blues Band, The Dubliners, and many more. Gripped by festival fever, each year the town staged a programme of community events including pig races, glassy alley competitions, talent shows, slow bicycle races, historical lectures, brass and pipe band recitals, barbecues and football matches. It was a festival for Ireland, and for the people of Macroom.
Now on the fortieth anniversary of the first festival, the musicians, organisers and inhabitants of Macroom recall their memories of this extraordinary time in Irelandís history.
Hear Roz Crowley's interview about the book on NewsTalk >>
Macroom Mountain Dew – Memories of Ireland's First Rock Festival
Author: Roz Crowley
Foreword: John Martin Fitz-Gerald
Price: €20
Launch date: 14 June 2016
Paperback 204 pages 114 photographs and illustrations

Use our "Buy Now" button to make a purchase. You can also email us for our bank details for an easy bank-to-bank transfer. If you prefer to send a cheque, add the cost of shipping to the book price and post it to us.
*Shipping:
Ireland: €9.00
UK: €14.50
Europe: €14.50
Rest of World: €18.00
..................................
The author:
Roz Crowley is a freelance journalist, writer and editor of best sellers and prizewinners which include Our Daily Bread, A Kingdom of Wine, The Lettercollum Cookbook, A Pinch of This. She has written for The Sunday Times, The Irish Times, Australian Gourmet Wine, Hibernian magazine, SlowFood, and has a fortnightly consumer page in the Irish Examiner. A former regular broadcaster, she still contributes occasionally to programmes.
John Martin Fitz-Gerald is a leading businessman In Macroom, and was on the Board of Directors of the Macroom Mountain Dew Festival for all of its seven years.