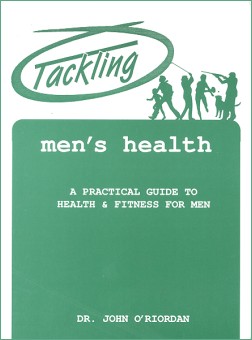 ISBN 1 897685 97
Use our "Buy Now" button to make a purchase. You can also email us for our bank details for an easy bank-to-bank transfer. If you prefer to send a cheque, add the cost of shipping to the book price and post it to us.
*Shipping:
Ireland - FREE
Europe + €4.00
All Other + €4.00
Tackling Men's Health
Dr. John O'Riordan
Euro: 6.49
Lifestyle, stress, diet, sexual problems, prevention of sports injuries and general fitness are explained in an easy-to-read format helps to address many questions worth asking about living and how to avoid illness. 146 pages. Illustrated.