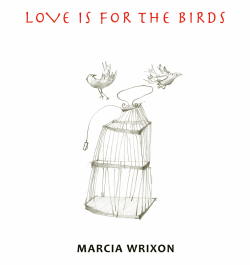 This book of poetry, written to celebrate private occasions and mark milestones, is the first collection from Marcia Wrixon. Written in a relaxed, lyrical and witty style, it echoes her life experiences and joys. Paintings to complement the poetry come from artists Shane Johnson, Katherine Boucher Beug, Liam Kelly and there are two by the author, an accomplished watercolourist.
Born in 1945 in Laurel Hollow, Cold Spring Harbor, Long Island New York, Marcia Seaman attended Friends Academy, Long Island, and graduated from Vassar College with a BA degree and UC Berkeley with an MA in 1967. She married Gerry Wrixon in Berkeley in 1968 and they have three children, Robert, Adrian and Allie. She moved to Ireland in 1975 and has lived in Sandycove, Kinsale, Ireland since 1990.
Love is for the Birds

Author:
Marcia Wrixon
Classification: poetry ISBN: 9781897685617
Price: €10.00 hardback
60 pages poetry, paintings and photographs.
Use our "Buy Now" button to make a purchase. You can also email us for our bank details for an easy bank-to-bank transfer. If you prefer to send a cheque, add the cost of shipping to the book price and post it to us.
*Shipping: €5.00