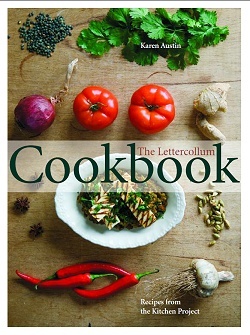 The Lettercollum Kitchen Project, run by Karen Austin and Con McLoughlin, is a West Cork institution. For ten years it has been the jewel in the crown of Clonakilty; a bakery and delicatessen that is celebrated for its delicious food, creative menus and fresh, organic, seasonal produce, often grown in the walled-in garden in the grounds of Lettercollum.
From Kuala Lumpur to Cadaqués, Tripoli to Timoleague, Karen has travelled the globe and brought the inspiration for new flavours and ingredients back home. Her dishes blend the very best of Irish cooking with a sprinkling of the exotic. Fodor's have named her a 'master of the vegetarian and ethnic repertory' and with dishes like Thai Pumpkin Soup, Spinach and Ricotta Gnocchi and Beetroot and Chard Tart, it's easy to see why.
Adding some easy fish dishes, a hint of chorizo and her most requested desserts, Karen shares her favourite recipes to shake up your lunch and dinner routine and get cooking some lip-smackingly good food!
Born in Kent, England, Karen Austin learned to cook in restaurants during eight years in Antwerp, starting as a dishwasher and working her way up to commis chef. In 1982 she moved to Ireland and with her partner and now husband Con McLoughlin opened a hostel, then Lettercollum House, a restaurant in Timoleague in West Cork, Ireland. Since 2004 with Con she grows fruit and vegetables used to make sweet and savoury tarts, pizzas, breads, cakes and seasonal treats at The Lettercollum Kitchen Project in Clonakilty. She runs cookery classes and occasionally takes groups on trips to cook in Spain and France. She has two sons and a daughter, a dog and a demanding acre of walled garden.
Gourmet food with a healthy attitude!
Photographs are by Arna Rún Rúnarsdóttir who is based in Reykjavik and married to an Irishman. Her work includes corporate photography in Iceland and England and food photography in France and Ireland. She taught photography at college level in Iceland and has exhibited her work in Winchester, London and Iceland. This is her fourth photographic assignment with Onstream.
The Lettercollum Cookbook – Recipes From The Kitchen Project

Author: Karen Austin
Photography:
Arna Rún Rúnasdóttir
Price: €21 Hardback
176 pages in full colour.
ISBN 978 1 897685 58 7
Use our "Buy Now" button to make a purchase. You can also email us for our bank details for an easy bank-to-bank transfer. If you prefer to send a cheque, add the cost of shipping to the book price and post it to us..
*Shipping:
Ireland: €12.00
UK & Europe: €15.00
Rest of World: €15.00
..................................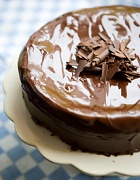 Chocolate hazelnut cake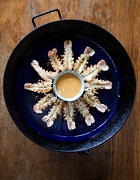 Grilled Prawns with whiskey mayonaisse