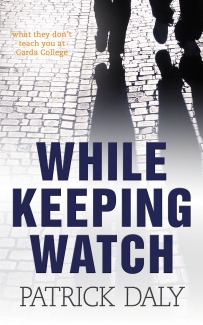 'So we've been joined by another fella who is too lazy to work and too cute to starve'
Fresh from the Garda College in Templemore, new recruit Kevin McMahon is eager to get on the beat in his first city centre posting.
But life as a garda is not all he expects. Life inside the station, with its outdated rituals and political infighting, contrasts starkly with the unpredictable world outside: vicious attacks on prostitutes, simmering resentment from the local gougers and the worsening state of the Shambles ghetto.
Partnered with the unpredictable Harry King and thrust into city life, Kevin's first year promises to be an eye-opening lesson.
As he is about to find out: one minute you're walking the beat, the next you're on the flat of your back.
While Keeping Watch - what they don't teach you at Garda College

Patrick Daly
Price: 8.99 euro
**Special Offer - Free Delivery within Ireland**
Use our "Buy Now" button to make a purchase. You can also email us for our bank details for an easy bank-to-bank transfer. If you prefer to send a cheque, add the cost of shipping to the book price and post it to us.
*Shipping:
Ireland - FREE
Europe + €4.00
All Other + €4.00
Also available in bookshops in Ireland.