Catryn Power's debut collection of short fiction is a love letter to her career in archaeology.

We meet the ghost of a French nurse, a forensic anthropologist solving a decades-old murder, and an international gem smuggler.

Join her characters as they escape attackers in an ancient crypt, relive the murder of an old Irish knight and uncover human remains in the trenches of World War One.

Intrigue and forensics fuse in these ethereal tales of history and the supernatural. Power's stories will captivate and surprise you.

Profits from the book will go to the Cork Parkinsons Support Group.

Contact: Roz Crowley Onstream Publications
Currabaha, Cloghroe, Co Cork, Ireland
Tel: 353 21 4385798 and 353 86 8242191
info@onstream.ie
........................................................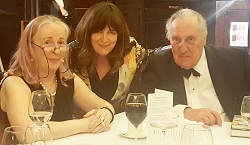 In 2014, she was shortlisted for the Fish Short Story Prize for 'The Officer's Son' and, in the same year, her story 'Thomas and Marigold' was shortlisted for the Cinnamon Press Short Story Prize. In 2017 her talents were singled out for special mention at the finalist's gala dinner when her book was shortlisted for the Sky News sponsored People's Book Prize.
Catryn Power – Short Stories
ISBN: 9781897685570

Price: €10
Launch dates: 3 and 10 October 2015
Paperback 96 pages 7 stories no illustrations
Use our "Buy Now" button to make a purchase. You can also email us for our bank details for an easy bank-to-bank transfer. If you prefer to send a cheque, add the cost of shipping to the book price and post it to us.
*Shipping:
Ireland: €7.00
UK & Europe: €8.30
Rest of World: €12
..................................
Biography:
Catryn Power is a former Cork County Archaeologist and a specialist in palaeopathology and physical anthropology. She has worked on numerous excavations throughout Ireland and abroad and lectured at the Department of Archaeology, University College Cork.
She has written internationally on her projects for journals and magazines.