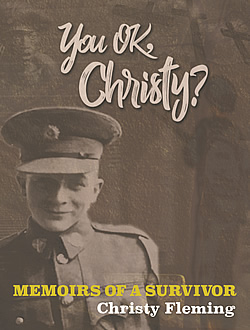 What doesnít kill you makes you stronger, and Christy Fleming has developed strength to deal with the many adversities that life has thrown at him.
In his autobiography, Christy describes his happy, young life in Markievicz House on Townsend Street, Dublin, followed by the horrors of Industrial Schools of Cork, the camaraderie of the battlefields of the Congo, and a variety of jobs including construction work in Londonís underground and bus conducting in the centre of London.
A diploma in clerical bookkeeping showed his will to seek the best for his wife and family. All of this despite epilepsy which for many years went undiagnosed and was an impediment to keeping jobs, leading to violent eviction from flats. So much to tell all in one book. This is the story of a survivor.

You OK, Christy – Memoirs of a Survivor


Author: Christy Fleming
Price: €15*

ISBN: 978 1 89768552 5
A5

192 pages

Winner Best Best First Time Author,The People's Book Prize, London.
*Post + packaging:
Ireland: €5.00
UK and Europe & Rest of world: €7.50
..................................