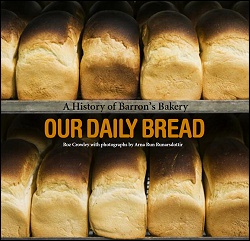 A lavishly produced hardback with a cover the soft feel of a loaf of bread, this book feels as good as it looks.
Relating the history of an Irish bakery, it is also a social history of the town of Cappoquin and its environs. The book gathers together interviews with over a hundred residents of the area including the oldest 96 year-old customer. He is one of many who survived wars and remembers flour and petrol shortages. All have vivid memories of going to the bakery to collect bread, some having it delivered by pony and trap. They conjure up the warm bakery scents wafting through the streets, the jars of sweets in the shop, the trays of bracks, Chester cake and the marking of the seasons with sweet treats. Through good times and bad, Barrons was always there.
The book is a testament to the tenacity of Joe Barron (1904-1980) and his daughter Esther and her husband Joe Prendergast who developed the bakery to its full potential while keeping the original Scotch brick ovens, the only in Ireland still in use. These ovens, along with time-honoured hand-moulding of favourites such as their plain loaves (turnovers) with the traditional rounded top and a crust loved by many when it is almost burned to a toffee crispness. There are also cobs, round hand-shaped loaves, seed loaves, blaas, soda bread and spotted dog and Irish barm brack.
Today, though suffering some of the ill-effects of the current recession, Barrons bakery thrives and this book is its celebration of 125 years in business in the current premises and over four generations.
The book includes charming old photographs and others taken during a night in the hectic, hot bakery. The photographer is emerging talent and award winning Arna Run Runarsdottir who captured the essence of the process of producing a wide range of delicious breads while the rest of the town sleeps.
Recipes for how to use up leftover bread, along with Mrs Barron's popular recipe are also included.
Our Daily Bread -
A History of Barron's Bakery

Author:
Roz Crowley
Photography:
Arna Run Runarsdottir
Price: 25 euro
160 pages, hardback.
Full colour.
* No 2 on Bestseller List for hardback non-fiction
Gourmand World Cookbook Award winner 2011
Book of the Week Irish Times 30 April.
"Roz Crowley interviewed more than 100 people associated with the bakery for this book, and the stories from family members, staff and customers make for fascinating reading."

Marie-Claire Digby
Irish Times.
"Your book touched me in many ways, it is the wonderful result of deep work on bread. The title is important in all its meanings, quite international, actually universal. Thank you for giving so much pleasure to the readers of your book."
Edouard Cointreau
President and Founder Gourmand World Cookbook Awards.
Food & Wine Magazine "This book delineates the four generation history of the family-run Barron's Bakery in Cappqouin, Co Waterford, a fixture of the Irish baking scene for over a century. With beautiful photography, interviews from patrons, memories from the kitchen and recipes for everything from Mrs Barron's bread and butter pudding to mushroom soup in a blaa, it's a foodie read that is so warming the aroma of fresh-baked bread practically oozes from the pages. F&W loves Stuffed tomatoes (page 125)."
June 2011
Use our "Buy Now" button to make a purchase. You can also email us for our bank details for an easy bank-to-bank transfer. If you prefer to send a cheque, add the cost of shipping to the book price and post it to us.
*Shipping:
Ireland: €5.00
U.K. /Europe: €7.50
All Other: €10.00